Recent Posts
1
« Last post by Craig on January 11, 2019, 03:04:16 PM »
2
« Last post by tatsuken on August 27, 2018, 02:30:34 PM »
Just some screen shots from eve online .
3
« Last post by Alexi on August 20, 2018, 08:06:31 AM »
Here are some adventures from my GTA adventures with Feargan, Cababs, Cloc, and Craig, and also myself.
The first picture Cababs was in the ultimate Sniping position along with me!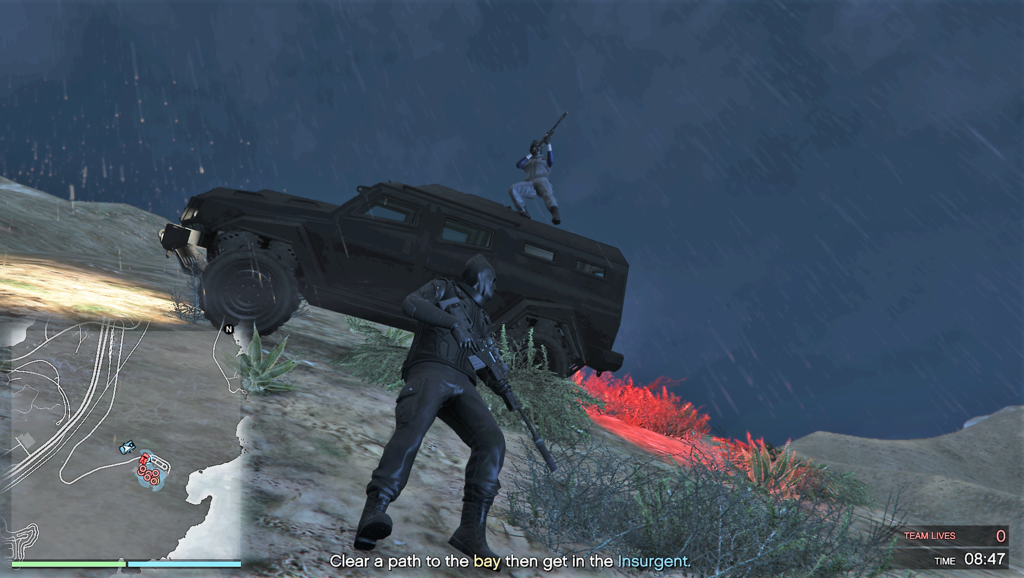 The second picture Feargan was driving, and I was in the Swat truck, while Craig was in the most badass position for death and destruction lol. We all together were motherfucking VOLTRON!
The third picture was me on my own I had to steal the top-range vehicle FMJ, but he was moving so I showed him who is fucking boss. I picked him up in the car with the Cargobob and flew his ass to my warehouse like a fucking boss. lol.
What are your recent GTA adventures?
4
« Last post by Feargan on August 19, 2018, 11:22:48 AM »
We're glad to have you, Alexi! It's been a kick-ass two years.
Quite the story of what gaming has been in your life; it is
most excellent
that Unfound has been a beneficial part of that. Party on, Dude.
5
« Last post by Craig on August 19, 2018, 10:27:45 AM »
Too late, Holy crap, I can see the grain in the wood
6
« Last post by Alexi on August 15, 2018, 09:54:26 AM »
Shannon, and I decided to go out and start getting ready for the fall season! So, we decided to get started the Unfound way with this little guy! (Don't enlarge the picture, because for whatever reason my iPhone X took a REALLY huge photo of this owl lol).
7
« Last post by Alexi on August 13, 2018, 10:59:53 PM »
Alexi's Gaming Life and How It's Now Unfound
To those who have not seen many of my 30 little posts, My name is Alexi! Rutherford is the last name of my main tac toon's STO name, though in TS3 you'll see me on there as Alexi. Now that awkward pleasantry is out of the way I feel a good a well proper forum life is needed, because my duties of managing my own forum has died down considerably, so it's time to take to the skies here at Unfound Forum.
So, prior to Cabab's recruiting me to Unfound on STO back on August 29th, 2016 my gaming life has been here and there on PC mainly casually playing STO, World of Warships, and discovering SWTOR. Basically the idea of playing games on the computer was something I never really have done, minus the days I was 12 and on Ebaulmsworld playing what can be known now as Pocket Tanks found in the Google Play Store on Android or The App Store on iOS. For me my gaming life started at a very young age of 3 as I remember some few moments enjoying my parents Atari. Seeing my mom and dad playing on the floor to their favourite game baseball was a cherished memory. I was only interested in playing the original Donkey Kong trying to jump over barrels to save the princess from the vial Donkey Kong. Soon after that my parents weren't doing well financially, so I remember getting my mom to bake chocolate chip cookies keeping mind that I was now 4 years old. I would take those cookies to my parents 3rd floor neighbors in our apartment complex in trade for some time on their neighbors Jeff and Diane's Sega Genesis. Man would I play the shit out of Sonic and that weird Michael Jackson game he owned, but I wasn't very good at them. I just knew I had a system. Cookies as payment to play a gaming console, that my parents couldn't afford. When I turned 5 my parents saw fit to their tradition of getting the original NES near it's life's end and that is where my video game life was born. Super Mario Bro's 1-3, Metroid, Contra, Super Contra, Dark Wing Duck, Wizard's and Warriors, The Legend of Zelda 1 and 2, Tiny Toons Adventures, Quattro Sports (Tennis, BMX, Racing, and Baseball), and a plethora of other titles that equally hold many good memories like 1942.
Steadily as technology advanced Nintendo blessed the world with the Super NES. I progressed into the world a little older owning a Gameboy, and SNES and continued to enjoy the legendary titles among a great deal of others such as Super Metroid, The Legend of Zelda: A Link To The Past, Super Mario World, Super Mario All Stars, StarFox, and so many racing games, and fighting games like Mortal Combat 3, and episodic games like Super Star Wars, Super Star Wars: The Empire Strikes Back, and Super Star Wars: Return of the Jedi life couldn't have gotten any better. Then one day our rental place had a N64 to rent and it took ages for my dad to figure out how it's supposed to be played on the now ancient floor model tube tv. As you can see so far I was raised on Nintendo. Yes I had friends who had the Sony Playstation, friends who had the Sega Genesis and Sega Saturn (Daytona Racing was very memorable), my parents stuck with what they loved as well and that was the family fun Nintendo lol. (Catch the rip I made against the Wii?). The N64 WAS THE MOST BADASS system and I was so happy that my parents didn't wait until it's life-cycle was over to buy that. They had a theme on some random ass Christmas we'd get a gaming system for the family. Goldeney 007, Star Wars: Rouge Squandron, StarFox 64, Mario 64, The Legend of Zelda: Ocarina of Time, and Majora's Mask, Star Wars: Shadows of the Empire, etc to name a few that I really remembered spending a lot of time playing.
That is around when I turned 16 my Uncle who literally works for a company that makes things for the government decided when he upgraded his computer that he would give us his Sony Viao Pentium II desktop computer. This was the first time I ever played games on it. He gave me a CD-ROM full of fun little games similar to 1942, and for my birthday bought me Star Wars: Jedi Knight Dark Forces II. This is where gaming on PC got intimidating to me! My initial thoughts that I shared with my Uncle were, "What the fuck Uncle Patrick? How do I play a game without a controller!? I've only ever played games on the console!". His response to me was simple, "You'll get used to it in time. Before you know it little dude, the keyboard and mouse will be so much easier than a controller could ever be!". After a few weeks of playing just that one game and some cheesy Mechwarrior game the keyboard and mouse wasn't even noticed, because this guy had Kyle Katarn and a fucking lightsaber with darkside force powers and I was destroying Stormtroopers like I was some kind of Jedi or something. I must mention that I even remember playing multiplayer on that with my highschool buddies after school as long as my homework was done lol.
Eventually I abandoned PC gaming, because as time grew on things like the Nintendo Gamecube was released and so was the Metroid Prime Series, more Star Wars: Rouge Squadron titles, and eventually one really bad StarFox that I still kinda liked and one really good one that I wanted to really hate, but still ended up liking. I never got to play any of the Mario or Zelda games on it though. I played the shit out of Need For Speed, and Resident Evil games though. As I got older I wasn't interested in playing video games as much for whatever reason. So I casually played when I could.
Eventually when Nintendo released the Wii I was really disappointed, and I ended up revisiting my old gamecube games with it anyways, because the motion control scheme just wasn't working for me. So in 2010 a girlfriend got me a Playstation 2. I played the crap out of that for a while to cope from my time in the Marine Corps. A lot of some really terrible things happened to me on that journey and when I came home gaming was literally what took my mind off of the trauma I experienced. However, it had a double edged sword mixed in it. I have a lot of found memories spending time with my brother Shane playing video games and with my dad as well, but as time progressed gaming was less and less same tv multiplayer oriented. I lost most of my friends at the time and I didn't have anyone to play with and for a long time I lost the interest in playing.
Fast forward 5 years and I got married and for the first time owned my own shit trailer, but it was mine and got into owning a Playstation 4. Gaming had changed so much in just 5 years that I was so overwhelmed. I missed an entire console generation with the Playstation. I also invested in a Nintendo Wii U, which was a disappointment, but it was more from my then wife at the time than it was for me, though I played it from time to time. (Mainly Super Metroid on the controller tablet while she was playing Overwatch on the PS4). She got me watching Let's Plays on Youtube and I saw Pewdiepie, Jack Septiceye, Markipliar, and The Game Grumps. My favorite all time gaming channel on Youtube though was Game Theorist with host MattPatt. I got to be exposed to more PC games, more console games and hell it motivated me to register for steam and start playing a game. My very first Steam game was To The Moon cuz I watched Markiplier play it. I loved it and I wanted more. So, I revisted STO and finished my main tac toon and to give myself a break from that I started my main toon Trithious in SWTOR as a proper Jedi Knight. Something was missing though, I played the shit out of Star Wars Battlefront on PS4 then and I had joined a Squadron to play Fighter Squadron a lot and make new friends, though those friendships have faded over the years. I really wanted that with STO and that's when Gina came along with Cabab's.
That's when I joined Unfound and really with no puns saw that my gaming life really and truly was unfound to me and I should probably go find it. Feargan, Gnasher, Gloc, Unpro, Klathar, KT, Gregzilla and Cabab's back in 2016 were like my group of friends I always wanted immediately warm welcome and enjoyed being apart of something and having someone to play my favorite PC game with at the time. Now here I am in 2018 around my two year anniversary date of being in Unfound and I have to say that my solid core friendships are only stronger, and without my gaming life I would have never had people in my life when I need people in it the most. Spending random hours on the phone with a few of the members just shooting the breeze, playing games, and being there for one another truly is inspiring. I can't imagine gaming any other way now, and the last two weeks killing it on GTA with Feargan mainly with Gloc, Cabab's occasionally, and Gnasher here and there has been amazing. Which i feel bad, because I also got No Man's Sky, so don't worry Gnasher, I'll be back on it mate, I just need to play the game I sat on for almost 2 years and get my monies worth out of it and then we'll build the most epic bases and scourge the universe of resources in No Man's Sky lmao.
Gaming for me now isn't so much a hobby or a past time like it used to be. I actually schedule my life around gaming, because I never know when one of my friends is going to be on TS3. That's how Unfound changed my view of gaming. It's an opportunity to hang out, drink beer, and be bad ass with friends and having the utmost fun that I never got out of playing solo on console.
This concludes how gaming has impacted my life!
-Alexi
8
« Last post by Alexi on August 13, 2018, 09:59:09 PM »
but is it doing it right cababs if you parkour your mates yacht to get to the highest point to see the sunset??
9
« Last post by Alexi on August 13, 2018, 09:50:20 PM »
"If you're on fire, you're doing it right!" - Feargan

These are the words of inspiration while I waited for almost two years to play GTA V and finally got the chance to do so! Learning to fly the buzzard and having Mentor Fear at the helm guiding me through landing while saying, "if you're on fire, you're doing it right!" very much. Seeing this post makes me super happy, because some people will see avatars, but I see three close buddies enjoying spending time together in a world that puts them literally in the same spot, when physically they are located around half the world between the three. Being able to know by looking at those screen shots what kind of fun was had that day makes me smile, because I know it was most triumphant and bad ass!
10
« Last post by Craig on July 01, 2018, 03:01:08 AM »
A massive DPS build with a huge Double shot from a huge cannon!
Phaser build
Andorian Thozyn Pilot Escort [T6] This will be the Tactical variant out of the three bundle pack
Kumari Phaser Wing Cannons Mk XV [CrtX] [CrtD/Dm] [Dmg]x3Any 4 Phaser Weapons after this, with [Acc]x4 [Acc/CrtD]
Heavy Bio-Molecular Phaser Turret Mk XV [Acc/CrtD] [Acc] [Dmg] [CtrH] [Proc] (This weapon cannot be Re-Engineered)

Any Phaser Turret of your choosing in the last slot
Voice of the Prophets
(This weapon does Physical Damage)
Full Iconian Space Set
Conductive RCS with [ResAll], Xenotech Drift Module, Xenotech Resilience Module
Exotic particle Field Exciter [ResAll], Quantum Phase Converter, Phaser Dispersal Array
(The Array can only be obtained from getting the T5 pack of Andorian Ships along with the Wing Cannon)
Tachyokinetic Converter
and X4 Phaser Consoles With Vulnerability Locator or Exploiter on them
The idea is to drop everything into the Wing Cannon and fire it at stuff. I did have a screen shot of a test fire and I got a 219k non Crit on a Galor with all of its shields up. We have tested this in a PvE and registered a 686k hit on a Tac Cube, this is other team mates buffing along with yourself. The ship also features a maneuvers (as seen in pic). This allows the ship to roll from side to side, shoot backwards at great speed a few kilometers and forwards. if stationary the ship will slide not roll from side to side.